Our former crew member Martina Aranguren started her career onboard as a photographer back in 2017. In the below video, that was officially shared by Royal Caribbean Group, she speaks about what to expect onboard on this "new normal".
Looking for guidance on what to expect while traveling back to work safely? We are here to help! The Royal Caribbean Group & Martina, one of our Broadcast Techs from Royal Caribbean International, are here to provide you the info & tools to know what to expect on your return to service.
The timeline of the process might vary depending on where you are travel to and from but basically. Here below you can see some infographics designed to demonstrate preliminary "What to Expect":
Remind that you can read the complete Healthy Return to Sailing here.
Royal Caribbean Group announced a 15-point plan aimed at the safe return of the shipboard employees which all crew needs to follow while traveling from home to join the vessel.
After receiving a call from the company and all necessary documents are completed, such as Letter of Employment and Medical Examinations, the crew needs to self-quarantine and get tested for Covid-19. If the PCR test is negative the crew member will be allowed to travel back to the ship. There will be two additional quarantines before the crew member is allowed to work, one in a hotel near the port and another onboard the ship. After completing the quarantine period onboard, the crew member will be tested once again and if the PCR test is negative means he/she is ready to work.
Each crew member needs to take these steps very seriously in order to safeguard his own safety, as well as the safety of the fellow crew and ultimately not to compromise the restart of the cruise industry.
1.Get tested for Covid-19 seven days before sign-on
2.Self-quarantine at home while waiting for test results
3.Begin healthy return to service training at home
4.Upload negative PCR test results no less than 24 hours before departure
5.Begin travels to the ship and follow all safety protocols.
6.Follow all airport and airline safety guidelines
7.Follow all safety protocols with ground transportation
8.Self-isolate at the hotel room and order room service to avoid going out
9.Complete health questionnaire as part of the online check-in
10.Get temperature checked by the transportation company before leaving the hotel
11.Take ground transportation to the port terminal following safety protocols
12.Get temperature checked upon arrival at the port terminal
13.Self-quarantine onboard
14.Take online training to learn about new safety protocols and impacts to your role
15.Get PCR test after the quarantine period onboard. A negative result means crew member is ready to work.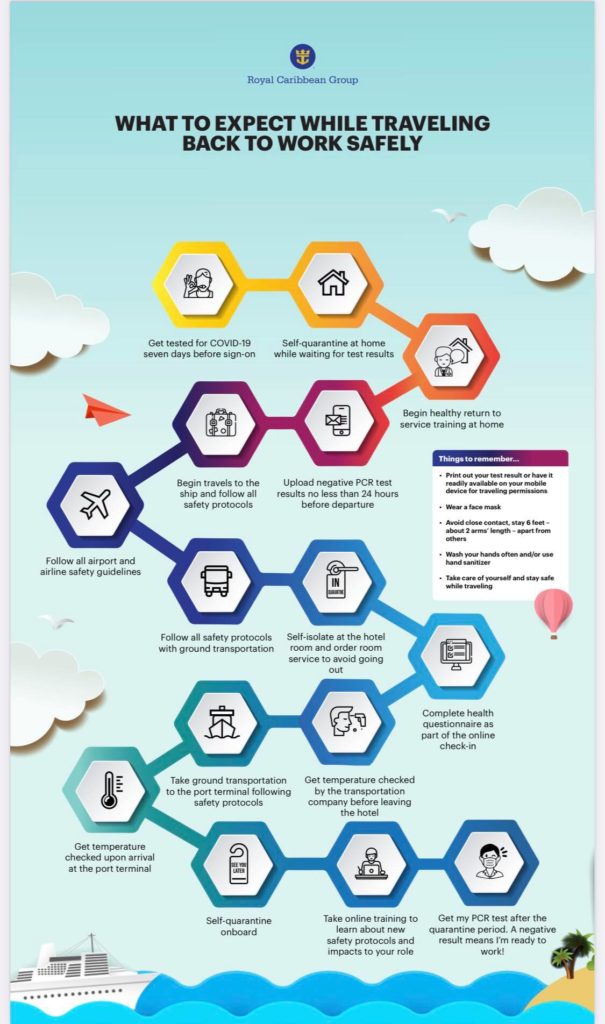 Things to remember
Print out your test result or have it on your mobile device for traveling permissions
Wear a face mask
Avoid close contact, stay 6 feet- about 2 arms' length – apart from others.
Wash your hands often and/or use hand sanitizer.
Take care of yourself and stay safe while traveling.