Crew & Cruise is looking for a variety of Sushi Chefs that are inspired by the art of sushi and Japanese cuisine.
Please note that we are recruiting in Latinoamerica!
Requirements:
Minimum 2 years of previous experience.
Excelent level of spoken English.
Duties:
• Prepare all types of sushi, including maki, nigiri and sashimi
• Select fresh fruits and vegetables to make high-quality dishes
• Add additional flavours to sushi rolls with ginger, rice vinegar, wasabi and soy sauce, when appropriate
• Coordinate with our wait staff to ensure proper cooking, considering special requests and food allergies
• To prepare food in accordance with menu recipes, quality criteria's and quantities required.
• Maintain the integrity and authenticity of recipes offered at the respective restaurant/ section
• Source authentic ingredients and or recommend substitute ingredients, if not available on the Maltese Islands.
• Optimise cooking processes with attention to speed and quality.
• Maintain outlet safety at all times.
• Consistently maintain food and safety protection by ensuring that all food handling processes are compliant with HACCP food safety guidelines, regulations and procedures.
• Interact with customers, communicating menu items and promoting dishes listed on menu.
• Experience working as a Sushi Chef, preferably in a fusion dining concept.
• Working knowledge of various dining concepts in Oriental cuisine is considered as advantageous.
• Ability to prepare various types of Japanese cuisine including Sashimi, Sushi and Tempura dishes.
• Primarily works in front of guests while preparing food orders at the sushi bar whilst ensuring a fun and engaging experience for our patrons.
• Monitors and ensures that food orders are in accordance with the company's established levels of cleanliness and sanitation.
• Exceptional culinary skills.
• Creativity, innovation and presentation skills.
• Observe HACCP protocols and internal operating procedures.
• Ability to work under pressure in a popular dining venue.
• Maintains a high level of personal hygiene
• Conforms with grooming standards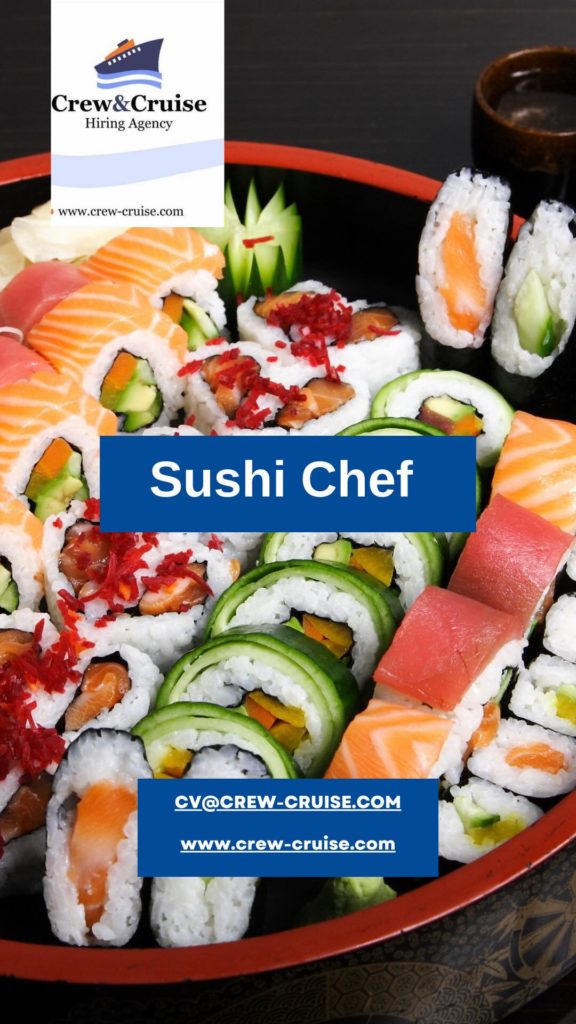 Due to the high volume of applications we receive, we are not able to reply each and every candidate.We can only reply to those who meet the requirements and in case we have a position available. Please check your spam folder. Remind that interviews are in English only.
all cvs must be sent in english